Linhof Studio are the official UK importer of Harrison.
The Harrison Changing Tents are a cross platform product; originally produced for the film industry they are now used by many large format photographers. Essentially they are a packable portable darkroom, and are designed with practical, field-tested features for loading or unloading valuable film outdoors or on location.
Harrison Changing Tents Characteristics:
Double zippered doors provide double the protection.
Additional light baffle guards zipper against light.
Double elastic sleeves are long enough to fit over elbows for added security.
Shock-corded and anodized aluminium poles fold into sections for storage.
Harrison Changing Tents come in 3 sizes: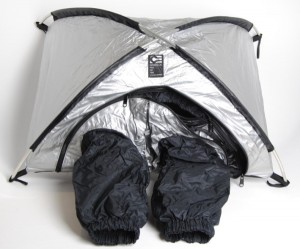 Pup –
For all 16mm film magazines or 4×5 film holders.
Dimensions: 25″L x 19″W x 12″H (64 x 48 x 31cm)
Weight: 2 lbs (0.7 kg)
Dimensions when packed: 13″L x 4″D (33 x 10cm)
Original –
For all 35mm film magazines or 4×5, 5×7 and 8×10 film holders.
Dimensions: 36″L x 27″W x 14″H (91 x 69 x 36cm)
Weight: 3 lbs (1 kg)
Dimensions when packed: 13″L x 5″D (33 x 12cm)
Jumbo –
For all 65mm film magazines or 11×14 and panoramic film holders.
Dimensions: 46″L x 28″W x 19″H (117 x 71x 48cm)
Weight: 3.5 lbs (1.4 kg)
Dimensions when packed: 21″L x 6″D (41 x 13cm)