Compagnon Weekender
A travel bag by compagnon. Small enough to take as hand luggage on flights. The video below will show this bag in more details.
Designed to hold
– several DSLR Full Frame bodies with 24-70 f2.8 lenses attached
– around 10 extra lenses (depending size), flashes or other fixtures and fittings
– Macbook / Laptop up to 15″ size in separate, padded compartment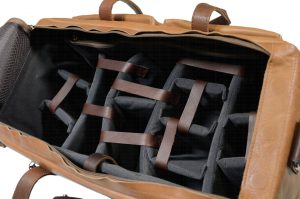 – iPad and/or documents in a separate pocket on the rear side
– another separate compartment for the compagnon notebook to record your ideas
– Alternatively the weekender will take a video setup like e.g. a RED Epic + lenses
– lens hoods or caps, filters, memory cards, sunglasses, headphones, smartphone, wallet and more
Dimensions
Exterior dimensions:
– 12.6 in (height) x 20.8 in (width) x 11 in (depth, incl. front pockets)
Internal dimensions:
– 9.4 in (height) x 18.1 in (width) x 9.8 in (floor depth)
Weight:
about 2.8 kg
Material
Original compagnon bull leather is tanned and toned according to our strict specifications. Maintaining the natural qualities of this wonderful material is the main focus in this process. Traditional craftsmanship and the use of organic ingredients like various waxes and oils result in the unique 'pull-up' characteristic. This feature is a permanent quality that allows for the leather to retain distinctive patina from the individual use of the bag, backpack or camera strap. Therefore the owner and his surroundings have an immediate influence on the looks, feel and character of the product and its change over time. Just like vintage leather armchairs found at an old colonial club room, a compagnon product will tell stories about its life and the adventures its been on together with its owner. Unlike any other bag, a compagnon will grow on you and will become a part of your history and your emotions.
compagnon leather is non-toxic and safe for all children and adults, even in intense use and prolonged skin contact.
This is why we're recommending our compagnon 'the beewax' as the preferred leather care product. In most other leather care products, toxic chemicals or additives are used, which will compromise the unharmful quality of compagnon leather.
The 'beewax' is handmade by compagnon using solely organic ingredients. The 'beewax' is available on our website.