Compagnon backpacks
A stylish yet pratical backpack by compagnon. The video below will show this bag in more details.

Designed to hold
2 full frame DSLR Bodies like a Canon 1D X Mark II or Nikon D5
– about 6-7 lenses (standing upright, for lenses up to 16cm height)
– 3-4 mirrorless systems like the Sony A7 RII, Fuji X100s, Panasonic Lumix GH4 or Fuji X Pro 2 with mounted lenses plus about 4-5 lenses (standing upright).
– 1-2 off-camera flashes / speedlights
– up to 15″ size Macbook Pro in separate compartment incl. leather clasp with press stud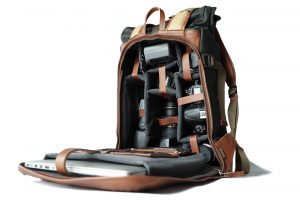 – small filter stack or 2 transmitters
– up to 2 tripods in the exterior holding loops
– chargers, (multi-)camera straps  and wires in the rolltop
– countless memory cards or external drives
– various small parts in dedicated mesh pockets
– Valuables & essentials like smartphone, wallet, keys, etc.
Dimensions
Exterior dimensions:
19.5 in (height) x 12.6 in (width) x 8.6 in (depth)
Internal dimensions:
main storage: 15.8 in (height) x 12 in (width) x 6.2 in (depth)
unfolded rolltop as extra storage: max. 12 in (height) x 12 in (width)
Laptop compartment width:
max. 14.5 in (height) x 9.25 in (width) x 1.2 in (depth)
Weight:
2.0 kg
Material
Genuine compagnon waxed Canvas is traditionally crafted in Scotland by a manufacturer looking back on a history of cotton and canvas crafting for British Royal Navy sails.
For compagnon, this stunning material is made in doubled thickness compared to other canvas products on the market. This way the sturdiness and durability matches the compagnon leather, staying your faithful compagnon for decades.
To our knowledge, authentic waxed Canvas is the only vegan, natural material able to retain a 'patina' from its use, similar to our beloved pull-up leather.
compagnon canvas is a natural product, thus non-toxic and safe for all children and adults, even in intense use and prolonged skin contact.
If the material is under intense use, especially in warm/hot weather or wet/humid conditions, we're recommending to add some wax to the fibre after 12-24 months. This is a fairly simple process which merely requires some pure wax and a hairdryer. To maintain the unharmful quality of the fibre, make sure to use pure, organic wax. Genuine pure canvas care wax, made specifically for by us for use with our products, is available on our website.