Compagnon Unique
Much more than just a handbag by compagnon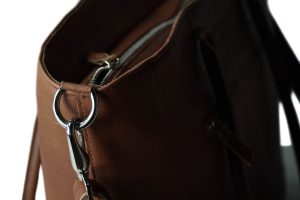 Designed to hold:
Full frame DSLR with Battery Grip and prime lens attached
          or a Full Frame DSLR with a 70-200 f2.8 attached
 Two additional medium prime lenses
or a prime and a speedlight / off-camera flash
Macbook / Laptop up to 13" in separate, padded compartment
           or an iPad and/or several documents
 Compartments for numerous lens caps, hoods, filters, memory cards, remotes and so on…
 Important belongings like keys, wallet, smartphone etc.
Dimensions
Exterior dimensions:
main zipper is 40cm long and opens about 30cm wide
Top:
12 inch (height) x 18.1 inch (width) x 3.9 inch (depth)
30,5 cm (height) x 46 cm (width) x 10 cm (depth), closed
Floor Level:
 12 inch (height) x 14.6 inch (width) x 6.9 inch (depth)
30,5 cm (height) x 37 cm (width, floor) x 17,5 cm (depth)
Internal dimensions:
 9.4 inch (height) x 16.3 inch (width) x 6.5 inch (floor depth)
 24 cm (height) x 41,5 cm (width) x 16,5 cm (floor depth)
Weight:
 about 1.4 kg with shoulder strap
about 1.2 kg without shoulder strap
Laptop compartment width:
31,5 cm (12.4 inch) wide,  ideal for 13″ Macbook / Notebook
Material
Original compagnon bull leather is tanned and toned according to strict specifications, by a traditional family run tannery in Northern Germany. Maintaining the natural qualities of this wonderful material is the main focus in this process. Traditional craftsmanship and the use of organic ingredients like various waxes and oils, result in the unique 'pull-up' characteristic. This feature is a permanent quality and allows for the leather to retain distinctive patina from the individual use of the bag, backpack or camera strap. Therefore the owner and his surroundings have an immediate influence on the looks, feel and character of the product and its change over time. Just like vintage leather armchairs found at an old colonial club room, a compagnon product will tell stories about its life and the adventures its been on together with its owner. Unlike any other bag, a compagnon will grow on you and will become a part of your history and your emotions.
compagnon leather is non-toxic and safe for all children and adults, even in intense use and prolonged skin contact.                                                                                 In order maintain the integrity of their products, Compagnon have produced a handmade beeswax using solely organic ingredients,  unlike most other leather care products where toxic chemicals or additives are used.This beeswax is recommended for leather care of their products & is available on our website.