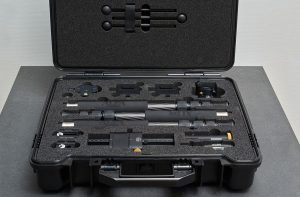 The ALPA GON Tripod Kit comes in a black suitcase all ALPA GON modules and offers photographers unlimited setting options. Thanks to the UniQ / C standard (dovetail system), the modules can also be combined with products from other manufacturers. This creates a setup as desired. It includes: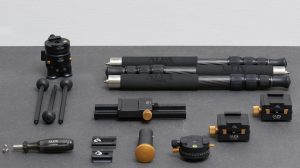 ALPA GON Tripod Head (consisting of Pano Plate Module and two ALPA Gon Modules)
• ALPA / Novoflex Triobal ​​Mini Set (including Q-mount)
• ALPA tripod legs carbon compact (4 segments) for Triobal ​​tripod head
• ALPA / Novoflex Castel Q with fine adjustment handle CAST-FINE short
• ALPA QPL Slim 50 tripod adapter plate
• ALPA QPL 1 tripod adapter plate
• ALPA Swiss Tool Mk II
Quality, feel, mechanics and precision
The ALPA GON modular system, like all ALPA products, was developed with the input of professional photographers. Since its launch last summer, the system has proven itself to many customers in the field and we have tested the products extensively in everyday use. The photographers Thomas Bredenfeld and Jost von Allmen took the tripod case on their shootings in the mountains.
Panoramic expert and author Bredenfeld reports on his Panorama blog about the experiences with the modular ALPA GON tripod head:
The ALPA GON module is a small, precision-engineered masterpiece that has become compact, relatively lightweight, very precise and durable, an ideal complement to my tools for high-resolution mountain photography, and has given me creative means that i would not have had before, especially not with this little effort and such lightweight equipment. The quality of craftsmanship, the feel, the mechanics and the precision with which the ALPA GON Goniometer is manufactured are beyond any doubt: After all, the well-known Novoflex "Made in Germany" quality meets with the proverbial "Swiss Made" of the ALPA manufactory."
Works amazingly
The Swiss landscape photographer Jost von Allmen has been working with ALPA for years and also took the GON suitcase with him. He even carried the not very light kit to the mountains around the Grimsel Pass. Von Allmen tried several setups, including the ALPA / Novoflex Castel-Q adjustment rail. "The overall solution works excellently and can be combined in a very versatile way with other components, above all due to its modular structure", says von Allmen about his experiences. "The suitcase has everything you need, and for shoots that require light luggage, just take out the items you need." Of the individual modules, von Allmen particularly emphasizes the ALPA panoramic table. "For me it is the best solution in the market".