Rodenstock HR Digaron-S 60mm
Rodenstock HR Digaron-S 60mm, provide excellent sharpness and brilliance from open aperture (f/4 to f/5.6).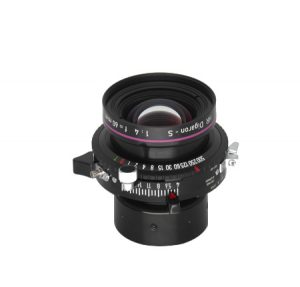 Even at the image corners sharpness is high enough to utilize the resolution power of the highest-performance sensors with up to 60 megapixels and a pixel pitch of only 6 µm. An image quality almost impossible up to now is realized due to perfect correction of curvature of field, integration of the 2mm thick sensor cover glass into the optical calculation and excellent correction of chromatic aberration in order to avoid color fringes.
Technical Data:
| | |
| --- | --- |
| Recommended cameras | ALPA, Cambo, Linhof |
| Recommended working f-stop | 5.6-8 |
| Recommended scale range | ∞ – 1/10 |
Movement ranges at sensor sizes:
| | |
| --- | --- |
| Image circle for scale ∞ | 70mm |
| 33x44mm | ↑→ 11/9 |
| 37x49mm | ↑→ 7/5 |
| 40x54mm | ↑→ 2/2 |
Dimensions and weights:
| | |
| --- | --- |
| Push on diameter | 51mm |
| Filter thread | E49 |
| Rear mount diameter | 42.0mm |
| Flange focal length at scale ∞ (Copal version) | 64.3mm |
| Flange to lens end (Copal version) | 24.0mm |
| Overall length | 57.6mm |
| Weight (version Copal) | 240g |
Shutter Types:
| | |
| --- | --- |
| Copal 0 | |
| Control mode | Mechanical |
| Shutter speeds range | B, T, 1/500-1s |
| f-stop range | 4-32 |
| Rodenstock eShutter 0 | |
| Control mode | Electronic |
| Shutter speeds range | T, 1/125-32s |
| f-stop range | 4-32 |
Accessories:
| | |
| --- | --- |
| Focus mount (dimensions and weights in version Copal) | |
| Focusing range with Focus Mount | ∞ – 0.7 m |
| Flange focal length at scale ∞ with Focus Mount | 45.6 mm |
| Flange to lens end with Focus Mount | 5.3 mm |
| Weight, lens with Focus Mount | 365 g |
| Centerfilter, Exposure correction -2,5 f-stops | |
| Mounting thread | – |
| Front thread | – |