Copal Shutter No 0
All Rodenstock digital lenses are available in Copal shutter size 0.
This mechanically controlled central shutter is outstanding for its compact design, lightness and robustness.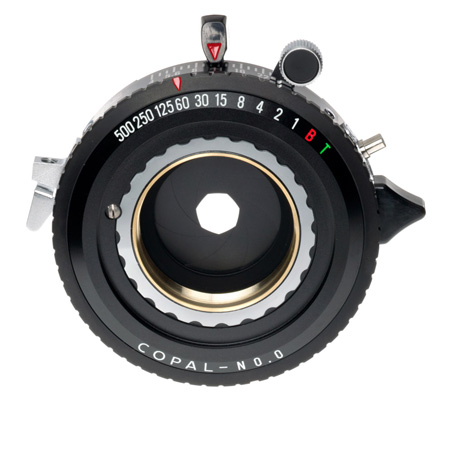 The manually adjustable shutter times from 1 sec to 1/500 sec as well as T and B have a mechanical setting. The steplessly variable iris diaphragm allows setting any desired interim aperture. Copal 0 shutters can be synchronized with the x-contact to almost every current digital back.
| | |
| --- | --- |
| Weight | 115g |
| Outer diameter | 61mm |
| Front lens mounting screw | M 29.5mm P0.5 |
| Rear lens mounting screw | M29.5mm P0.5 |
| Front & rear lens mounting length | 20mm ± 0.025mm |
| Cable release nipple | M3.2mm P0.5 |
| Shutter speeds | T, B, 1, 1/2, ¼, 1/8, 1/15, 1/30, 1/60, 1/125, 1/250, 1/500 sec |
| Maximum iris opening | 24mm 5 blades |
| Minimum iris opening | 1.5mm |
| Synchronization | X contact only |
| Synchro-trigger energy durability | Less than 12mWS |