Rodenstock Apo Sironar S Edition Lenses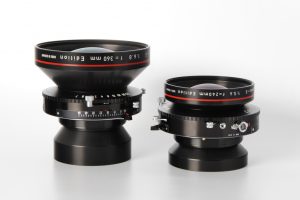 While Rodenstock have ceased productions of analogue lenses, a limited series of Apo Sironar S Edition has been secured.
The analogue lenses are manufactured at the factory under the same specification as the earlier Apo Sironar-S.
The Apo Sironar S have a large image circle therefore increasing movement range.
The Edition Lenses include:
RODENSTOCK 150mm f5.6 Apo Sironar S EDITION
Engrave EDITION.Supplied in Copal 0 shutter
Filter Thread 49mm
Image Circle 231mm
Flange Focal Distance 147mm
RODENSTOCK 210mm f5.6 Apo Sironar S EDITION
Engrave EDITION.Supplied in Copal 1 shutter
Filter Thread 72mm
Image Circle 316mm
Flange Focal Distance 202mm
RODENSTOCK 240mm f5.6 Apo Sironar S EDITION
Engrave EDITION.Supplied in Copal 3 shutter
Filter Thread 86mm
Image Circle 372mm
Flange Focal Distance 230mm
RODENSTOCK 300mm f5.6 Apo Sironar S EDITION
Engrave EDITION.Supplied in Copal 3 shutter
Filter Thread 100mm
Image Circle 448mm
Flange Focal Distance 277mm
RODENSTOCK 360mm f6.8 Apo Sironar S EDITION
Engrave EDITION.Supplied in Copal 3 shutter
Filter Thread 112mm
Image Circle 468mm
Flange Focal Distance 330mm
See our WEBSITE for prices