A great TPS 2016! See you at TPS 2017:  18th-21st March 2017
New products from all our suppliers will be on display together with a demonstration still life area run by Mamiya Leaf lit by Hensel Lighting.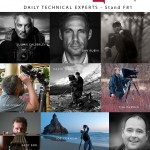 This year- the Linhof Studio talk hub will be curated by On Landscape and has more than doubled in size. It promises to be a hub of activity with inspirational and practical talks across a vast range of subjects . Click here to visit the schedule of speakers.
Keep up to date with all the information on talks at The Photography Show : Click here.
We are pleased to announce our Inspirational speakers for The Photography Show which is at the NEC from 19th to 22nd March 2016.  Building on the success of 2015 we have teamed up with On Landscape to host our Talk Hub. Each day there will be a schedule of talks and a Q&A lunchtime session with the daily speakers. During these sessions we welcome Aurélien Le Duc, CEO of Bergger who will bring a wealth of knowledge on B&W Fine Art to the Hub.
Follow us on twitter or facebook to keep up to date as we confirm our speaker list and times.
Linhof Studio is where like-minded people come together to provide a platform of solutions and debate for the artist of today.