Our stand at the Photography Show sees a hub of activity based around our import line of HENSEL Performing Light
Andy Earl will be talking about his unique location lighting style in the Studio area of the show and also be one of our guest 'Ask the experts' on our stand every day.
In our live Studio on the stand we have guest brands:  Phase One, Mamiya leaf and Orbitvu – all set-ups lit with Hensel lighting.
In Addition KEY NEWS includes:
 REDUCED KIT PRICES Launched at the Show for 2014 . Now better value than ever when you purchase a Hensel Lighting Kit.
 EH Mini P LED Speed head with powerful LED model light! AVAILABLE APRIL 2014
 The Photography Show will see the UK launch of the New EH Mini P LED Speed Head for the Hensel PORTY Location Battery System.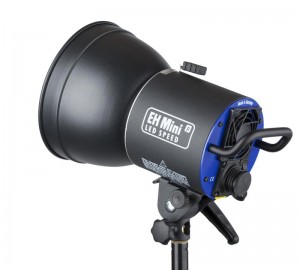 The demands of location photography of today mean the Photographer often switches from stills to video with in the same shoot. The BRIGHT LED of this head offers the perfect solution for all location needs.
Using a sophisticated high-power 40W LED modelling light, it is mounted on a special heat sink and cooled by a fan to withstand the high temperatures generated by the flash tube. Because of its excellent efficiency, the light output of this LED is similar to a 300W halogen lamp.
This head delivers a seriously brighter modelling light than conventional Porty heads with a 65W Halostar bulb. At the same time, the LED saves battery capacity – the user gets brilliant model light AND more flashes (the fan consumes less than 2 Watts). Furthermore the LED is mechanically more robust and has a dramatically longer life span than any halogen bulb, making it perfect for transportation. In addition to its technical advantages, this head meets the growing popularity and demand for LED's.
NEW : Hensel Power Max L 120V – The Mobile Power Source for Compact Flash Units.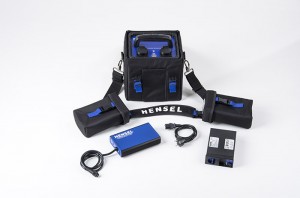 For the Photographer who requires only occasional outdoor mains independent use Hensel introduce the Power Max L 120V. It is an up-to-date and reliable mobile power supply for current Hensel compact flash units. Small, lightweight and powerful due to its lithium battery, with a capacity of up to 440 flashes at 500 Ws per battery charge.
NEW: HENSEL C-LIGHT D: Compact Daylight Lamp For Photo and VIDEO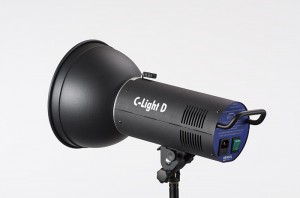 Efficient 150W metal-vapor lamp with light output similar to a 650W halogen lamp. Passive cooling makes live-sound recordings easier. The C-Light D is a daylight lamp, which means that nearly all of the Hensel reflectors and softboxes can be used. In conjunction with the new Power Max L this is a perfect combination to make outdoor videos.
Features include:
Long-lasting (up to 6,000 hours) lamp with low-noise & passive cooling for smooth, uninterrupted operation and extremely low power consumption of 1 A which allows for simultaneous operation of multiple C-Light Ds on standard emergency power.