Linhof 130 years competition
Linhof Cameras is 130 years old making it the oldest camera manufacturer in the world!
We chose to celebrate this by holding a competition, photographers could send in their favourite image and the story behind it.
With many great entries the decision was difficult but the winner is…
Here is a snippet of the winning story…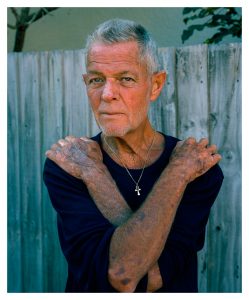 "The photograph is of my father, who I photographed every day over a four month period, from the moment of his diagnosis with terminal lung cancer until the day he passed away. The photograph attached here is very special to me, because I remember standing in front of dad in the late afternoon light, staring deep into his eyes with aid of my 12x loop. Under the dark cloth of my Linhof Techno camera, I'd use a magnifying loop to find focus on the fine detail of my father's blue eyes. We'd talk and laugh and mostly just be, all the time with me clicking away, one frame after the other. On the rare occasion that I used to bring girls home , they'd always tell me that my father had the most amazing, bright blue eyes. Dad passed away not long after this photograph was taken, but his eyes were bright and his mind sharp right up to the end. This photograph is exactly how I will always remember him."
In second place we have Simon Schollum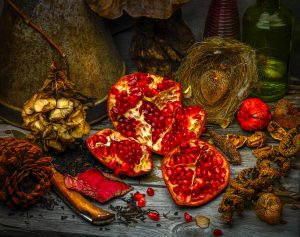 "In 1939 my father Stanley was one of among the first 6 sworn members of police to be trained and appointed District Police photographers. On appointment he was issued a new Linhof 4×5 camera kit which he used till retirement in 1973. Meanwhile in 1976 (age 19) I was accepted into the NZ Military Police where I was trained in forensic photography using Linhof cameras. After 40 years law enforcement, I retired In May last year and and continue to rely on Linhof equipment on a daily basis shooting still-life; fine-art; product and architectural images for pleasure and profit. The quality of manufacturing of Linhof products embodies the physics & principals of image making which remain as relevant to the working shooter today as when my father started his career 78 years ago."
In third place is Jorgen Klovstad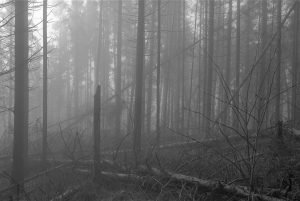 "My experience with psychosis has been very chaotic and confusing. Interestingly enough, it started around the time I got more serious about photography. After about 3 years dealing with the illness, I got very frustrated creatively. I could not figure out what I wanted to photograph. Then one night, it dawned on me, that I should "photograph" the illness. I feel that the image I am sharing, is the strongest in the series in that sense. The chaotic scene with fallen trees represents the intense fear and chaos I have been experiencing. To me, the fog represents the confusion and uncertainty of depersonalization. Maybe one day I can share the entire series to the world. To bring awareness about these conditions."
As well as the top 3, we received an amazing array of entries…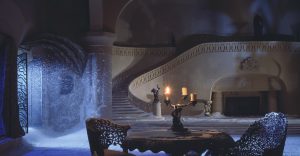 "It was for a Benson & Hedges poster commissioned in the late 1980 s. This was a very long 10 day shoot because we could only shoot at night as it was a 28 minute exposure in a studio in Covent Garden. The surreal image is the opposite to what you expect. It is the left candle (B & H cigarette pack) which is still lit while the other 2 candles are blown out as the strong wind blows open the window and lets in the snow because you would have expected the opposite. We used a very powerful wind machine to blow the curtain and the artificial snow through the window. To achieve this we used TWO HUNDRED THOUDAND joules  of electronic flash equipment to freeze the snow and lit the set with tungsten light for 28 minutes. We also lit the B & H candle for 5 seconds by 1 assistant covered totally in black to walk in the set and blow out the candle."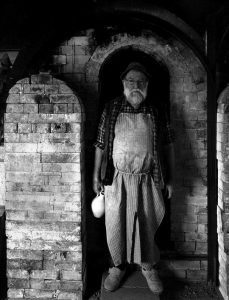 "I arranged to photograph the potter John Leach in his studio in Somerset. John is a very jovial character but very obliging so whilst he was keen to smile he did keep some dead pan expressions to give me what I was after. . Standing in front of the kiln with a slight Garden Tomb feel on the one hand and "this week I have been mostly eating" feel on the other, there is this idea that John has appeared from the Kiln as if something has just taken place. Once we had the shot ,which took about 20 minutes and 4 sheets of HP5 we spent the next hour and a half chatting about his travels and time spent in the States and other photographers he had encountered."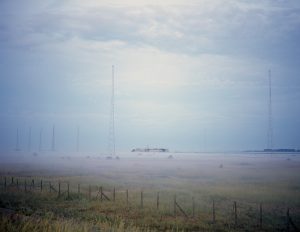 "I was in the middle of a project looking at England's nuclear landscapes, and was on my way to photograph the Atomic Weapons Research Establishment's defunct testing site on Orford Ness. You can only reach the Ness – officially, at least – via a ferry from the mainland that runs once or twice a day. The Ness is a nature reserve, and entry is forbidden otherwise.  But I knew I had to photograph the AWRE buildings as soon after sunrise as possibleCobra Mist was designed to listen for nuclear missile launches from the Soviet Union (although it never really worked, and the programme was scrapped in 1973).  I have never felt I earned a photograph quite as much as this one. I made it to the AWRE buildings just as the sun came up on a beautiful, clear and still day. "
Gustav Jensen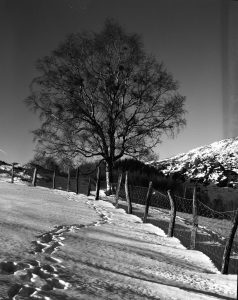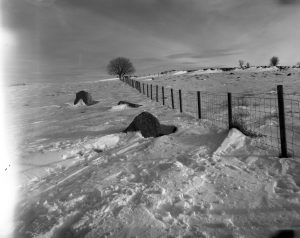 (left) "Late winter in Bjerkreim ca. 1,5  hour driving from Stavanger ! A lonely farm called "Tysland" ca. 30 min driving from civilization in the middle of nowhere. For me this is a calm winter image."
(right) "This is from "Høy Jæren" a very cold January Sunday. I do like this image as it is from my point of view very typical for the winter time in this part of Norway."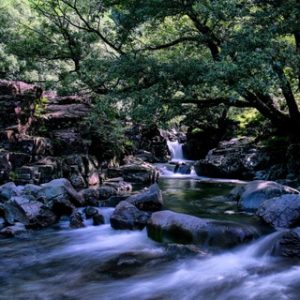 "This photo was taken with my FujiXE1 using the Big Stopper I purchased from Linhofstudio. We had a few hitches in processing the order but mistakes get made and it is how they are dealt with which sets suppliers apart – you could not have performed better, and thanks for that. It is one of my favourite photos because it was the first time I had used the Big Stopper and I was blown away by the result! I thought the image literally 'stopped' me in the moment, a hot day, enticing shade and cool water. Each time I look at it I just want to get into that pool!"
 Mo Gujarati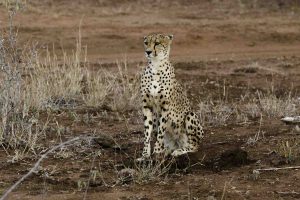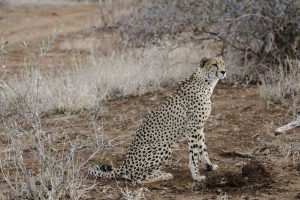 "My Trip was to Kruger National Park. One day we were looking for cheetahs and we were about to give up and return to the camp however when we turned to go back, we spotted two cheetahs who were brothers!  What an amazing sight to see these beautiful creatures in their natural environment."
"I had two rolls of 36 to develop so when I got home, I put them a 4 reel Patterson tank and then put the tank away until the weekend. Well, I had some 120mm Ektachrome that I shot earlier in the week and wanted to develop it. I forgot that there were two undeveloped rolls of 35mm in the tank and I popped the lid off while I was sitting under a light. They were only exposed for a couple of brief seconds since I had reached in and pulled the spindle out with both reels on it. I figured why not develop them and see what I get. "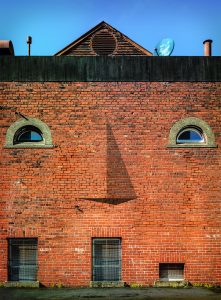 "The image started off when I noticed that the two half-round windows of a building adjacent to the car parking area behind a photographic store in a nearby city looked like eyes and that the peaked roof looked like a hat. I also thought the windows along the base of the building looked like a broken smile.  However, when I was processing the image, I thought the only facial feature missing was a nose. So, I constructed one in Photoshop, as shown in the attached image. Members of my camera club were amazed to see the "nose". They recognised the building but could not recall that feature. Some actually drove to the nearby city to see the nose for themselves. They all enjoyed the fantasy."
Jim Downing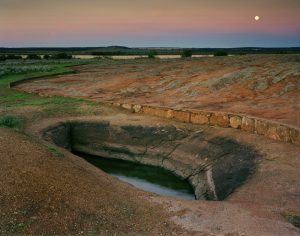 "This image shows how two cultures used the same feature to obtain life giving water in a difficult environment. It has hung on my wall for over 12 months and still reminds me of the importance of water.  The Australian landscape holds its secrets well. The area in the photo has been geologically stable for 280 million years and for the last 40,000 years the indigenous people used this rock hole, or gnamma, as a source of water. When white settlers arrived they built a wall to catch and divert the rain water runoff. The end of the day symbolises that neither culture now uses this rock for water capture, while the moon indicates continuity and stability of the earth."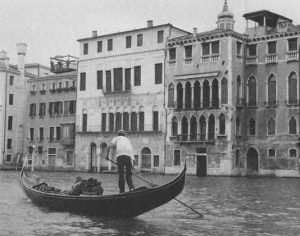 "This photograph looks like it could have been taken a century ago and restored by a talented craftsman, but this is Venice in 2016. Not just Venice but the whole of Italy has been dissected to no end—one can find countless black-and-white photographs of Venetian gondoliers on the Internet. This particular photograph, however, is not about the subject, composition, or lighting but about the textural and visual quality of the print itself. You can almost feel the water splashing on your arms as you float down the Grand Canal. I do not insist that Venice exist in black-and-white, but it certainly evokes a time before iPhone photography. The gondolier is almost beyond the horizon now. Another movement of the oar, another click of the shutter, and he is gone. Will fine art analog photography vanish with him, too?"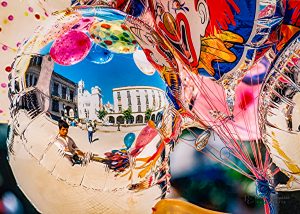 "It was a sunny and beautiful day at my hometown Xalapa, and I was having a photo walk around the city park. In a moment I saw this guy a "balloon seller" with lots of balloons tied to a wood stick and I thought – "What a nice picture it would be of the balloons", but I never could image what happened next !!! An instant before I press the shutter of my camera one of the balloons, which had a clown face printed on it, just turn around and faced me and, at the same time, another balloon with a nice aluminum look reflected all the details around the scene in a panoramic way.The final picture shows the balloons, all the ropes tied to the stick, the seller and even my "Self Portrait" in the image taking the picture reflected in the aluminum balloon."
William Bartholemew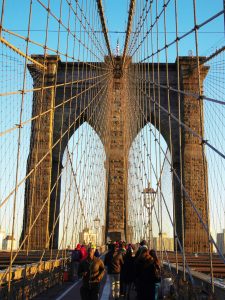 "Of all the photos which are not too big to be sent by email this picture is certainly one of my favourites taken in 2014 in New York. I took my wife to New York in December 2014 to see my favourite opera at the "Met". We had fabulous weather – blue skies and good visibility. On our first day we took the Statten Island Ferry then walked towards the Brooklyn Bridge. After a quick lunch it seemed to me that beautiful light was approaching and we might miss it. I urged my wife to go a little faster with her rollator and we made it. The bridge was bathed in the most attractive reddish light. Some time later we saw the sun set behind the Statue of Liberty. It is pure magic to stand on the Brooklyn Bridge and watch Manhattan light up!"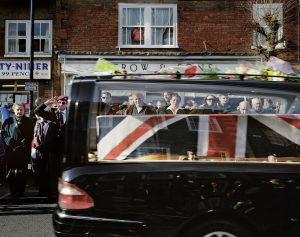 "Swindon , The town of Royal Wotton Bassett gained royal patronage in March 2011 by Her Majesty Queen Elizabeth II in recognition of its role in the regular repatriation of fallen servicemen and women from the wars in Iraq and Afghanistan. The bodies were transported from RAF Lyneham, and pass through the town on their way to the coroner in Oxford. Family members, friends and the local community assemble along the route in silent tribute for Sgt. Paul Fox, Riflemen Martin Kinggett, Carlo Apolis and Senior Aircraftman Luke Southgate, who all died within six days of each other."
"This image is composed by 3 shots, but I consider it as single picture. The image was shot in  a torrent in the Dolomites (Italy), enlightened by a golden reflection coming from  a dolomitic wall in winter season. The choice of a view camera  has been  essential: the subject plane was  inclined.  Focus stacking is  not  possible in this cases, due to the dynamic subject."
David Cole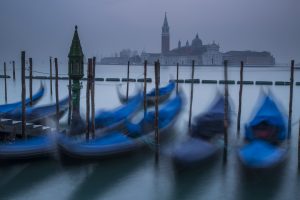 "I attach an image taken at the end of January on a photo tour to Venice.  You'll recognise the classic location – a dawn shot of the bobbing gondolas just near to St Mark's Square.  The image was taken with a Canon 5D Mk3 and edited in Photoshop Adobe CC.  For a long exposure such as this one (6 seconds) a good firm tripod was essential!  I use a Benro Mach 3 with a Manfrotto head which has suffered badly from being chucked in the back of vans heading to photo shoots."
Thank you to everyone who entered and a huge congratulations to our winner !