Anders Torger – a longstanding customer of Linhofstudio has developed a professional Depth of Field App designed primarily for the experienced landscape and architecture photographer using high resolution cameras (film or digital), potentially with tiltable lenses.
Whilst there are many depth of field-related apps on  the market few are actually efficient to use in the field. For example,  many provided relative distances only, despite that in the field you want to work with absolute distances. And if you need tilt there are only  one or two apps to choose from, and those do not provide the wedge span height that Anders finds critical for choosing the proper f-stop. And o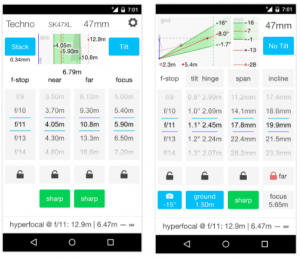 f course, he had to disqualify any app that doesn't allow him to choose the circle of confusion size.
Fortunately, Anders knows a thing or two about photography math and software development so he simply made his own app, and the result is the 'Lumariver Depth of Field'. He has not only thought about his own needs with the Techno, but also users that have live view or cameras without live view and ground glass, such as some ALPA configurations. When designing the app he first defined the workflows: the questions you ask when out in the field and you want the app to answer, and only then did he started to design the user interface.
A 90 second youtube run-through of the feature set can be seen here:
And for the link to the Lumariver  website where the app can be accessed for Android and iOS systems please click here 
At £6.99 I would imagine sales will perhaps only pay for the numerous coffees that were drunk during the development and cannot possibly reflect the many hours such a task will have taken .
Anders has also available on the web an extremely comprehensive review of the Linhof Techno and much more, please click here
Its well worth a read and we thank him for keeping us informed and sharing his information with us.