Product Overview
GF lenses achieve ultra-high resolution and are capable of supporting further enhancement in future. Utilizing the knowledge cultivated through the development of the XF lenses, GF lenses are Fujifilm's finest class of lenses and were designed by amassing various technologies of Fujifilm. They are designed to fully unlock performance potential of the GFX 50S.
The "FUJINON GF110mmF2 R LM WR" is a medium telephoto lens for portraits. With a focal length equivalent to 87mm in the 35mm format, it achieves a brightness of F2.0 when used wide open to deliver beautiful bokeh. The high resolving power of the area in focus and the rich bokeh unique to medium format fast lenses depicts portraits with a realistic three-dimensional feel. It features fast and quiet AF due to a linear motor, is dust and weather resistant, and is capable of operating in environments as cold as -10°C. The lens combines high performance and reliability as a professional work tool.
Mid-telephoto lens for portraits
High Image quality
This medium telephoto lens with a focal length equivalent to 87mm in the 35mm format offers fantastic bokeh thanks to its large F2 aperture, making it the perfect portrait lens. Using four ED lens elements, this high image quality lens limits chromatic aberrations by arranging the elements in a well-balanced manner before and after the aperture. By adopting an inner focusing AF system for the optimal configuration, aberration fluctuations due to changes in shooting distance are suppressed.
Beautiful bokeh
By adopting a construction including 14 elements in 9 groups, including 4 ED lens elements, spherical aberrations and chromatic aberrations are suppressed. Nine rounded aperture blades create a beautiful bokeh at both the front and back which enables the rich expression of out of focus areas unique to medium format lenses.
Fast and quiet AF
A linear motor drives the autofocus, allowing for fast and quiet shooting using the AF.
Dust and weather resistant, capable of operating in environments as cold as -10°C
The lens has been sealed in nine areas, allowing you to shoot with stability even in dusty environments and in light rain outdoors.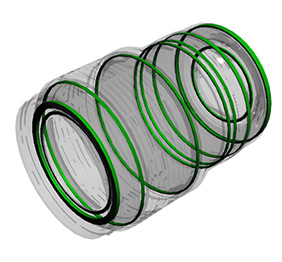 High operability
The aperture ring has a C position (command dial mode) that allows the lens aperture value to be changed via the command dial on the camera body to suit the photographer's preference. A locking mechanism has been added to the A (Auto) and C positions to prevent unintended movements of the aperture dial.
Specs for FUJINON LENS GF110mmF2 R LM WR
| | |
| --- | --- |
| Type | GF110mmF2 R LM WR |
| Lens configuration | 14 elements 9 groups (includes 4 ED elements) |
| Focal length (35mm format equivalent) | f=110mm (87mm) |
| Angle of view | 27.9° |
| Max. aperture | F2 |
| Min. aperture | F22 |
| Aperture control | Number of blades: 9(rounded diaphragm opening) |
| | Step size: 1/3EV(22 steps) |
| Focus range | 0.9m – ∞ |
| Max. magnification | 0.16x |
| External dimensions : Diameter x Length* (approx.) | ø94.3mm×125.5mm |
| * distance from camera lens mount flange | |
| Weight* (approx.) | 1,010g |
| *excluding caps and hoods | |
| Filter size | ø77mm |
| Accessories included | Lens cap FLCP-77 |
| | Lens rear cap RLCP-002 |
| | Lens hood |
| | Lens pouch |